Welcome
As the name suggests, the George Kagiwada Library and Digital Media Lab is home to both the ASA research library and the department's new digital media lab initiative. 
Library Collection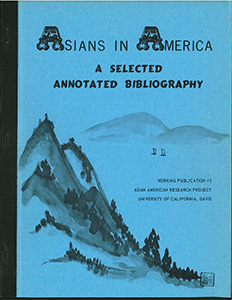 The George Kagiwada Library contains an extensive collection of books, media, and rare periodicals, as well as the ASA archive of faculty and departmental papers, course syllabi and readers, and foundational bibliographies documenting the emergence of the field of Asian American studies.  View the library catalog here. Contents include:
Books covering many topics including: Asian American History, Culture, Identity, Diaspora, and Social Justice.
Media:  VHS and DVDs covering a wide range of topics related to Asian American Studies
Periodicals:  Newspapers, Journals, and Magazines related to the APIA and Asian community
ASA Department Archive:  faculty and department papers; early bibiographies; course syllabi and readers, and more.
Online Portal:  The ASA department is collaborating with Shields Library to inventory, catalogue, and digitally scan parts of the collection, with the goal of creating an online portal to extend virtual access to this valuable research collection.
Visiting George Kagiwada Library
If you would like to look at the Library's book collection, please fill out the Google Form below as the Library will be available to folx on an appointment basis. If you would like to look at the Library's archival collection please look through the collections' finding guides here. Please review the finding guides that are an interest to you. If you would like to move forward with looking through the archives in-person, please make an appointment with the ASA Program Coordinator by filling out the Google Form here: https://forms.gle/adHQPKBmQY3RoLPeA
Once received, the ASA Program Coordinator will directly contact you for more information and the appointment date.  For more information please  email the Program Coordinator, Angel Truong at anjtruong@ucdavis.edu.
Summer 2022 Revival
During the summer of 2022, CST graduate student and Bulosan Center senior historian Stacey Salinas, along with ASA program coordinator Angel Truong, began revamping the library to move forward with the digital media lab project. This included organizing, cataloguing, digitizing, cleaning, labeling sections, and creating finding guides for library's materials. From this effort, seven collections were created. This project continued the digital media lab initial steps that was halted during the 2020 pandemic. 
Below are the people who contributed to this ongoing project since 2017:
Robyn Rodriguez
Susette Min
Beshara Kehdi
Scott Tsuchitani
Kazumi Chin
Zoey Hou
Stacey Salinas
Angel Truong
Kyla De Las Alas
Jason Sarmiento
Kirby Araullo
Digital Media Lab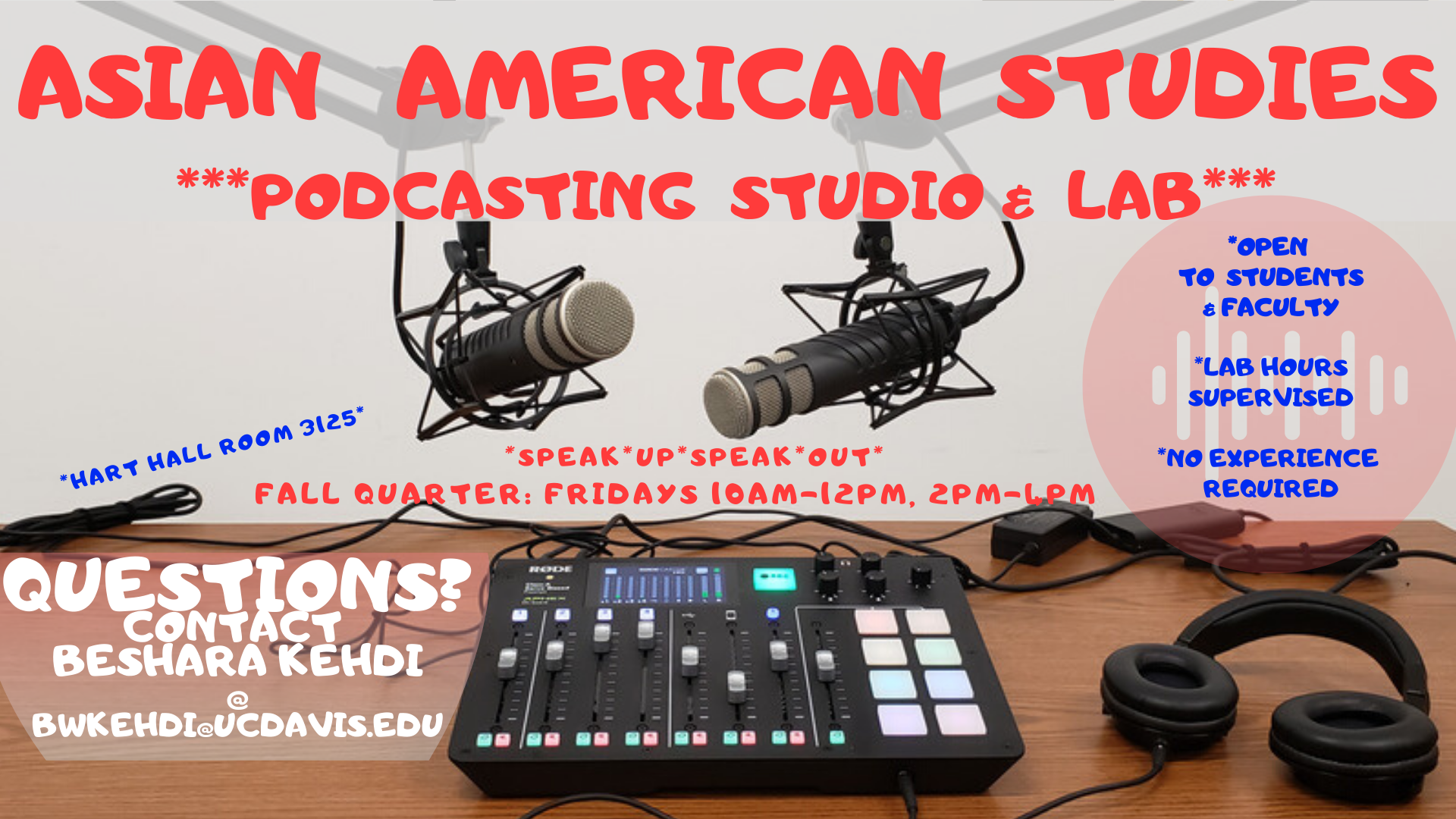 The Digital Media Lab was originally conceived of in 2018 and offered its first courses in 2019.  The Lab serves as a hub for teaching, experimentation, and student-led practice-as-research in digital media production and digital humanities.  Facilities include:
digital media workstation
podcast studio
archival scanner
video and audio production kits 
ASA students have the opportunity to produce media in
production-intensive course offerings
core curricula
supervised lab hours 
independent productions
The Lab also serves the needs of faculty and graduate student research in digital humanities and production.
Course Offerings and Student Productions
First Year Seminar:  In Winter 2019, ASA offered its course in the Media Lab initiative, a production seminar titled "Asian and Arab American Media Justice" as part of the First Year Seminar program.  The following film was produced in this seminar.
Megan Duong, Home and Homeland, 2019.  TRT: 4:03
Summer Media Institute: In Summer 2019, a handful of students participated in an experimental media institute that attempted to integrate concepts of cultural studies, media activism, and basic video production techniques.  Here is an example of student work.
Katelyn Banh, Through Many Eyes, 2019.  TRT: 9:41.
Upper Division Seminar: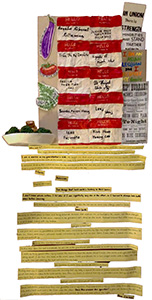 In Fall 2019, in ASA189B "Digital Media Production in Asian American Studies," students created works in response to Bouncing Back: Community, Resilience & Curiosity, the memoir Dr. Isao Fujimoto, one of the founding faculty members of the ASA department.  Students worked across a variety of media and approaches, including podcasting, digital storytelling, oral history, creative nonfiction, poetry, and visual art.  Student creative works are linked below:
Digital Methods in Faculty and Graduate Student Research

Professor Robyn Rodriguez is the leader of the Digital Media Lab initiative and also serves as director of the Bulosan Center for Filipino Studies. 
 نصائح ستّي Grandma's Advice: Things You Wish You Asked Your Arab Grandma But Never Did is a podcast currently in development by Beshara Kehdi, a Ph.D. student in Cultural Studies.  Six episodes are scheduled for release in Winter 2021.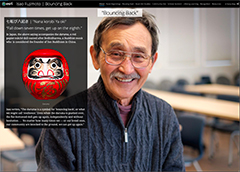 Isao Fujimoto: Life and Legacy is a digital humanities project sponsored by ASA in honor of the retired scholar activist and founding faculty member of the ASA department, directed by Scott Tsuchitani, an artist and Ph.D. candidate in Cultural Studies.  The project draws inspiration from Dr. Fujimoto's community-centered, horizontal pedagogy in its collaborative and multivocal approach to authorship, bringing together the work of artists, activists, students, and scholars for a multimedia exhibition and public events that took place in January-February 2020.  View the project:
Poster Panel Series
Visual Art
Student Works
Biographical Timeline Website
Oral History Archive