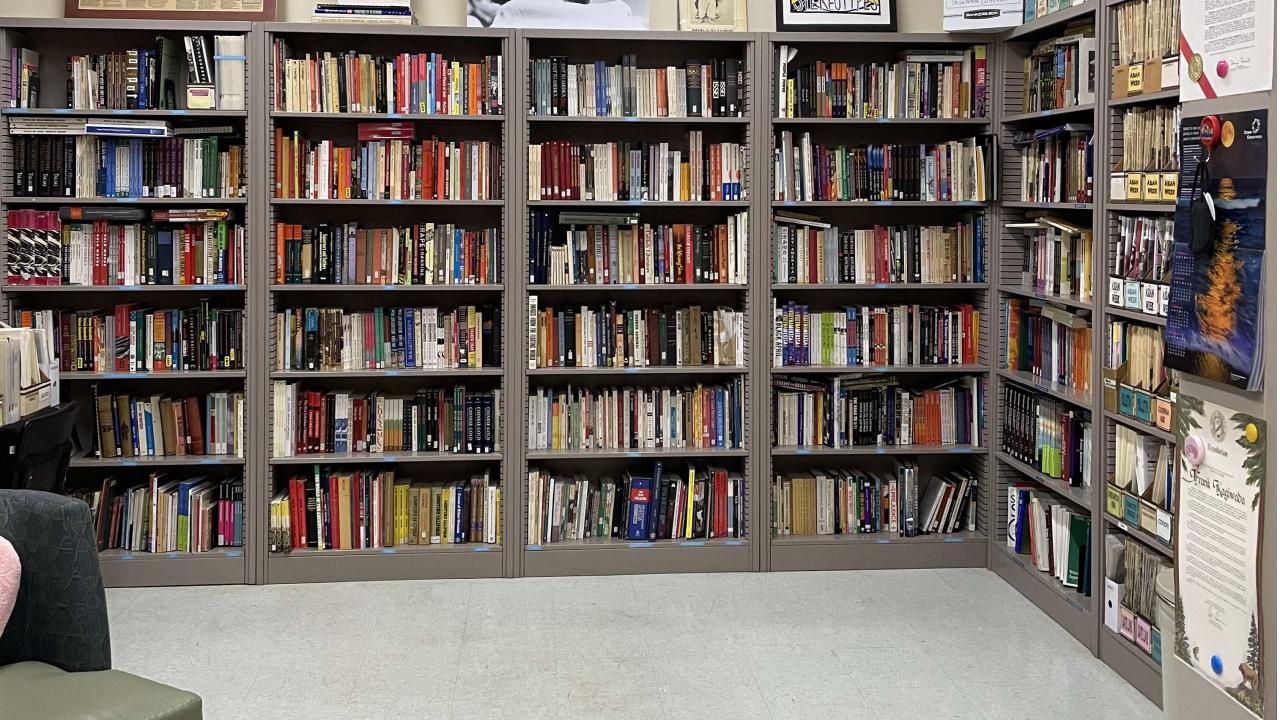 The George Kagiwada Library contains an extensive collection of books, media, and rare periodicals, as well as the ASA archive of faculty and departmental papers, course syllabi and readers, and foundational bibliographies documenting the emergence of the field of Asian American studies. View the library catalog here.
Contents include:
Books covering many topics including: Asian American History, Culture, Identity, Diaspora, and Social Justice.

Media:  VHS and DVDs covering a wide range of topics related to Asian American Studies

Periodicals:  Newspapers, Journals, and Magazines related to the APIA and Asian community

ASA Department Archive:  faculty and department papers; early bibiographies; course syllabi and readers, and more.
Online Portal:  The ASA department is collaborating with Shields Library to inventory, catalogue, and digitally scan parts of the collection, with the goal of creating an online portal to extend virtual access to this valuable research collection.
During the summer of 2022, CST graduate student and Bulosan Center senior historian Dr. Stacey Anne Baterina Salinas, along with ASA program coordinator Angel Truong, began revamping the library to move forward with the digital media lab project. This included organizing, cataloguing, digitizing, cleaning, labeling sections, and creating finding guides for library's materials. From this effort, seven collections were created. This project continued the digital media lab initial steps that was halted during the 2020 pandemic. 
Below are the people who contributed to this ongoing project since 2017:
Robyn Rodriguez

Salinas Archive Room 

Susette Min

Beshara Kehdi

Scott Tsuchitani

Kazumi Chin

Zoey Hou

Stacey Salinas

Angel Truong

Kyla De Las Alas

Jason Sarmiento

Kirby Araullo

Nico Ong

Shen Ramirez
Below is the list of collections and their finding guides. Please review the finding guides that are an interest to you. If you would like to move forward with looking through the archives, please make an appointment with the ASA Program Coordinator by filling out the Google Form here: https://forms.gle/adHQPKBmQY3RoLPeA
Once received, the ASA Program Coordinator will directly contact you for more information and the appointment date.  For more information please  email the Program Coordinator.
All the archival materials are located at Hart Hall in the Salinas Archive Room. The ASA department gives our thanks to Dr. Stacey Anne Baterina Salinas for revamping the George Kagiwada Library, creating and digitalizing the collections, and creating an archival room to safely store and preserve ASA and the greater APIDA community history. 
List of Collection's Finding Guides