**FREE COVID-19 TESTING IN SACRAMENTO**
For more information please visit https://tettehpediatrichealth.com/covid-19-testing/
To reserve your appointment please go to https://bit.ly/TPH_COVIDregistration or call (916) 538-6118.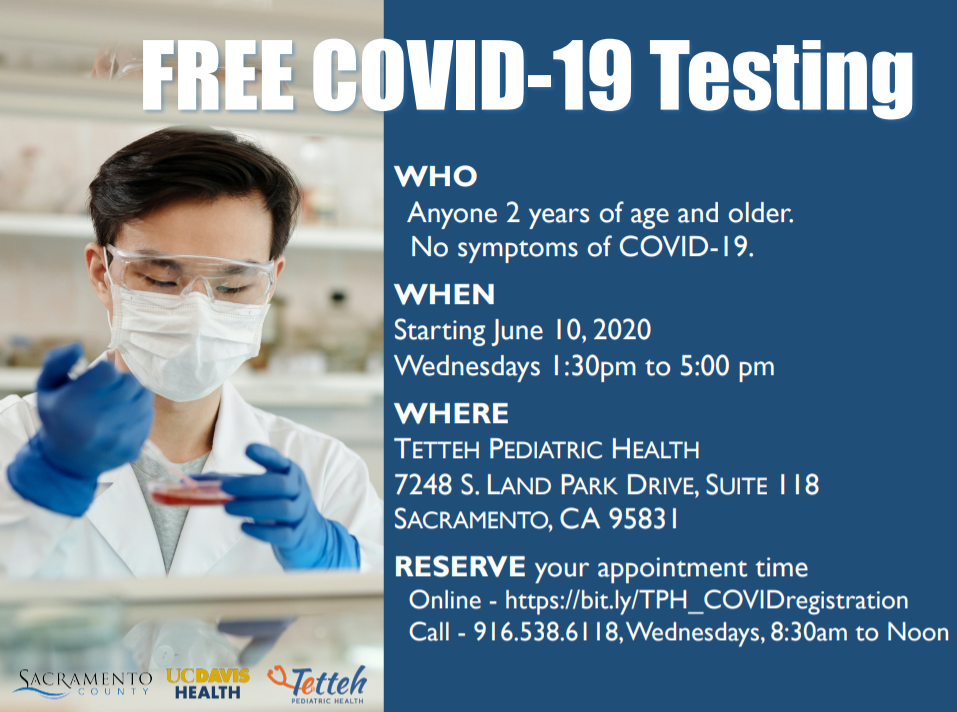 UC Davis has announced that Spring Quarter 2020 will be instructed remotely through online teaching. The ASA department Spring 2020 courses will all be taught remotely throughout the quarter. 
**Please note during this time the information on the UCD website links will be updated frequently so check as often as you can**
For information on COVID-19 from UC Davis, please use this link, https://www.ucdavis.edu/coronavirus/
Here are quick links from the website for specific information.
Coronavirus Updates for Students https://studentaffairs.ucdavis.edu/news/coronavirus-update
COVID-19 FAQ for Students https://studentaffairs.ucdavis.edu/news/coronavirus-faqs
Coronavirus: Health and Well-being https://www.ucdavis.edu/coronavirus/news/health-well-being/
Student Resources for Remote Learning https://keepteaching.ucdavis.edu/student-resources
Frequently Asked Questions - UC Davis Student Resources https://ebeler.faculty.ucdavis.edu/resources/faq-student-resources/
March 24, 2020 Learning in a Time of COVID-19 Letter to Students
Dear Asian American Studies students,
We realize this is a very challenging time for you and your loved ones; it's equally challenging for all of us as instructors and staff members.  Since the campus has decided to continue operations remotely over the spring quarter, we all expect to "see" you (via Zoom) in the coming weeks. Indeed, given widespread anti-Asian prejudice, bigotry and harassment with the spread of COVID-19, now more than ever, we as a society need the critical insights that Asian American Studies (please see the recent statement about Anti-Anti-Asian Harassment and the COVID-19/Novel Coronavirus from the Association for Asian American Studies on our website https://asa.ucdavis.edu/public-statements).
To better prepare all of us for the new reality of remote learning, we want to share the following sets of resources with you:
Principles of the ASA Community: Kindness, Patience and Grace
Though the campus has its own principles of community (https://diversity.ucdavis.edu/principles-community)  to which we also abide, we have a very special culture of care in ASA. Those of you who know us, know that ASA is a space that tries to foster a strong sense of community. If you have ever been in the ASA office, you know that  anyone who needs a place to study is welcome to use our space. You know, too, that we have an "honor" snack bar where students can eat what they want, as much as they want when they need to. All we ask is that they donate money or their favorite snack when they can. You also know that the faculty and staff are warm and welcoming. In this time of crisis, we pledge to continue to foster that culture of care and to treat each of you with kindness, patience and grace. 
Are you ready for remote learning? Prepping for class 
First Week of Class:

Even though classes are supposed to start on March 30th, we recognize that all of us may still be adjusting to the transition to remote learning. Our instructors will take measures to ensure that our classes are fully accessible to you first. We as faculty and instructors do not expect to start officially lecturing on course material until 2-3 weeks following the start of the quarter, however, we do hope you begin reading and assignments as soon as you have access to them via Canvas. Please note, that some of the faculty may not yet have published their Canvas courses. 

Needs Survey:

Please fill out this

survey

to help us better serve you as learners. Please make sure to use your UC Davis email to fill it out.

Computer and Internet Access:

The campus has assured us that it will do its best to provide computer and internet access to students who need it. Here is the link for more

information

.

https://keepteaching.ucdavis.edu/student-resources

Readings:

Assuming you have a computer and internet access, please make sure to download the library

VPN

(

https://www.library.ucdavis.edu/service/connect-from-off-campus/

) in order to access any readings for your courses from Shields. Our instructors will do the best we can to provide you with PDFs with readings on Canvas but in case you need to access readings from the library, you will need VPN. Plus, if your instructor requires you to do library research, you will need to have VPN to access readings. Otherwise, you may be asked to pay for reading material. Since it is not clear that postal services will operate in the same way over the next few weeks, we are advising instructors to adjust their syllabi so as to provide you with readings that are easily accessible.

Communication:

We will do our best as a department and as individual instructors to keep you updated on all developments that may impact your learning. However, if you have specific questions or concerns, it is very important that you communicate directly with your TAs and/or faculty in the methods that they specify. See below for info on how to contact ASA staff. 
Are you feeling physically and emotionally prepared to learn? Resources that can help
We realize that you will not be prepared to learn remotely if your basic needs (physical and emotional) are not being met. Here is information to help you navigate campus resources to assist. 
FAQs for Students:

https://studentaffairs.ucdavis.edu/news/coronavirus-faqsstudent-focused COVID-19 FAQ

Basic Needs Assistance:

Aggie Compass

(

https://aggiecompass.ucdavis.edu/

) and the student-run

Pantry

(

https://thepantry.ucdavis.edu/

).

Medical and Mental Health Resources:

Free online medical, mental health, and psychiatry appointments:

https://shcs.ucdavis.edu/online-visits

*must use coupon codes provided on website* 
          Mental health support:
          In-person crisis support @ North Hall available M-F 9AM-4:30PM
          Telehealth (phone or video) visits offered for all other visits 
         Call 530-752-0871 to schedule appointments
          Crisis text line: Text "RELATE" to 741741
          *Free for all registered students
Anti Asian Bias: We realize that a good majority of students enrolled in our classes identify as Asian American Pacific Islander. We also realize that many are experiencing anti-Asian bias of all kinds. If that has happened to you, please consider report to the following:     

UC Davis Harassment & Discrimination Assistance and Prevention Program:

https://hdapp.ucdavis.edu/report-incident

Stop AAPI Hate:  http://www.asianpacificpolicyandplanningcouncil.org/stop-aapi-hate/

General Unemployment Resources:

https://edd.ca.gov/about_edd/coronavirus-2019.htm

*especially helpful if you have family members who lost jobs or if you worked off campus and lost employment
We will be posting additional resources on the ASA website. 
"Office" Support
Since the main office will be closed, you can keep updated on developments in Asian American Studies through our website (https://asa.ucdavis.edu/) and Facebook https://www.facebook.com/UCDavisAsianAmericanStudies/
Angel Truong, ASA Department Coordinator, provides departmental information, and will be available Monday-Thursday 11am-4pm. Please contact her via email anjtruong@ucdavis.edu or (530) 752-2069.

Joe Nguyen will be available by phone or email for academic advising between the hours of 10am-3pm M-F.  Please contact him at (530) 752-8617 or jovnguyen@ucdavis.edu

Dr. Robyn M. Rodriguez, chair of Asian American Studies, provides overall direction to the faculty and staff. If you have questions or concerns about your remote learning experiences in Asian American Studies, please contact her via email at rrodriguez@ucdavis.edu. You can also schedule Zoom office hours with her

 

here

. She is also available by phone during regular business hours (9AM-6PM) at 732-979-5768. If she doesn't answer, please leave a voicemail.

Aizl Albon and Julie Guan are our peer advisors and can lend academic support as well as advice and recommendations on academic success.  Students are strongly encouraged to reach out to Peer Advisers with any questions relative to their learning experience through their emails Aizl adalbon@ucdavis.edu and Julie jdguan@ucdavis.edu.  Aizl's remote office hours for Spring 2020 are Mondays 1-4pm, Wednesday 2-4pm, and Friday 1-4pm while Julie's office hours are Monday 3-5:30pm, Wednesday 3-5pm, and Friday 1-6pm. 

Dr. Tatum Phan is our CAN Community Counselor. She is available for free consultations and counseling services via phone and video Contact via email with schedule of availability: tktphan@ucdavis.edu